(fuente: Wizards.com)
El último de los Duel Deck llega: Koth vs. Venser. Dos nuevos planewalkers se enfrentan para ver cual es más poderoso: Koth, un geomante vulshok nativo de Mirrodin que empleará la fuerza bruta de sus hechizos rojos contra Venser, planeswalker artificiero especialista en el teletrasporte que intentará manterer el control con sus conjuros blancos y azules. ¡Elige cual será tu planeswalker!
-DUEL DECK: KOTH vs. VENSER-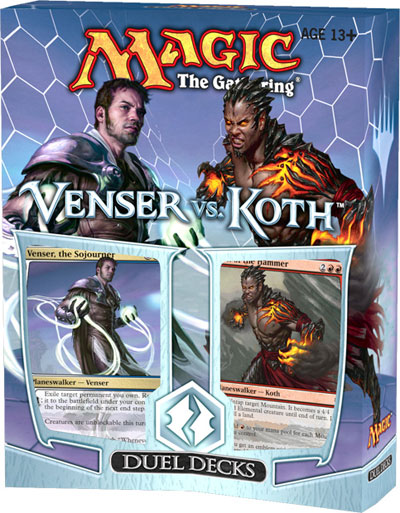 1- Contenido: dos mazos completos (tierras, criaturas,...) de 60 cartas cada uno.
2- Temática: lucha entre planeswalkers, el geomante vulshok Koth (mazo rojo) contra el artífice-planeswalker Venser (mazo blanco+azul).
3- Idioma: únicamente saldrá en inglés y japonés (muy mal WotC...). Aquí la nota donde lo decían: "Note: originally, this was going to be available in more languages, but unfortunately our plans have changed. Duel Decks: Venser vs. Koth will be available in English and Japanese."
4- Precio: 21'95€. aprox.
5- Aspecto: cartas en borde negro.
6- Dato mazo Koth: viene con nuevos artes de Koth of the Hammer (además FOIL), Anger (muy molona) y Chartooth Cougar Y Plated Geopode (sí, cuatro nuevas ilustraciones en lugar de tres ;D).
7- Dato mazo Venser:
viene con nuevos artes de Venser, the Sojourney (además FOIL), Path to Exile y Preordain (me haré con el playset para mi
Canadian
).
8- Legalidad: legales en sus respectivos formatos.
Listas de MTGSalvation.wiki
Lo cierto es que para comenzar a jugar no están mal estos Duel Deck, pero a mi este en particular no me llama la atención.
KOTH
VENSER